All Airtech Systems are designed and built with each customer's specific needs in mind. Multiplex systems provide an economical advantage by having smaller pumps with lower horsepower operating in a lead-lag sequence. Only the capacity needed at a particular time will be in operation. A "built-in back-up" is provided as a safety net in case one pump requires service.
Our systems are used in a range industries; surgical, dental, laboratory, environmental remediation, and a variety others. See just a few of our sample systems below.
Airtech Systems With State of the Art Control Panels
Airtech can supply systems with control panels featuring intuitive graphical user interfaces that allow users to set alarms for various conditions, automate functions, designate lead/lag pumps, and monitor performance in real time. Optional network capabilities allow users to perform various functions and access data from a variety of devices.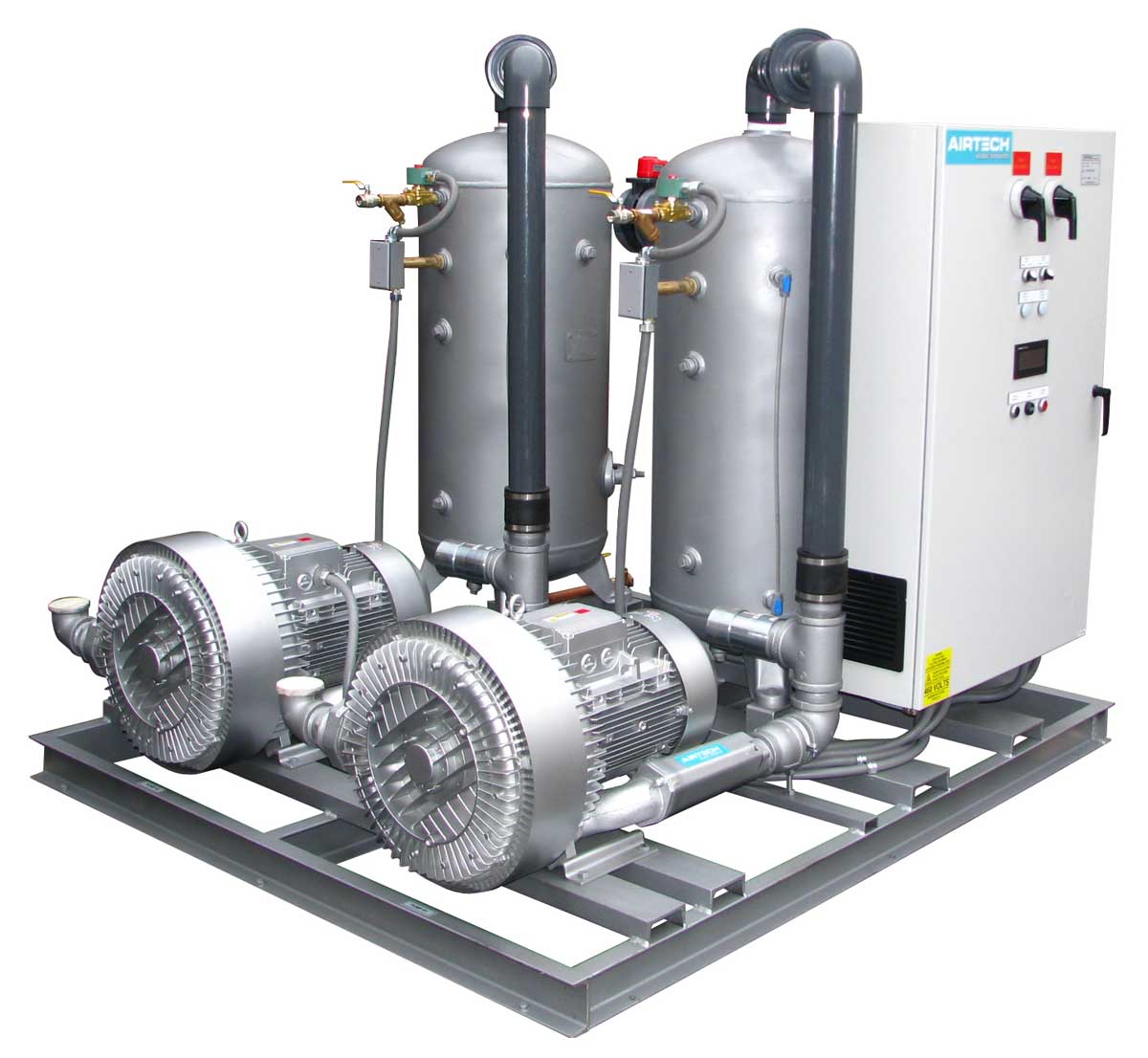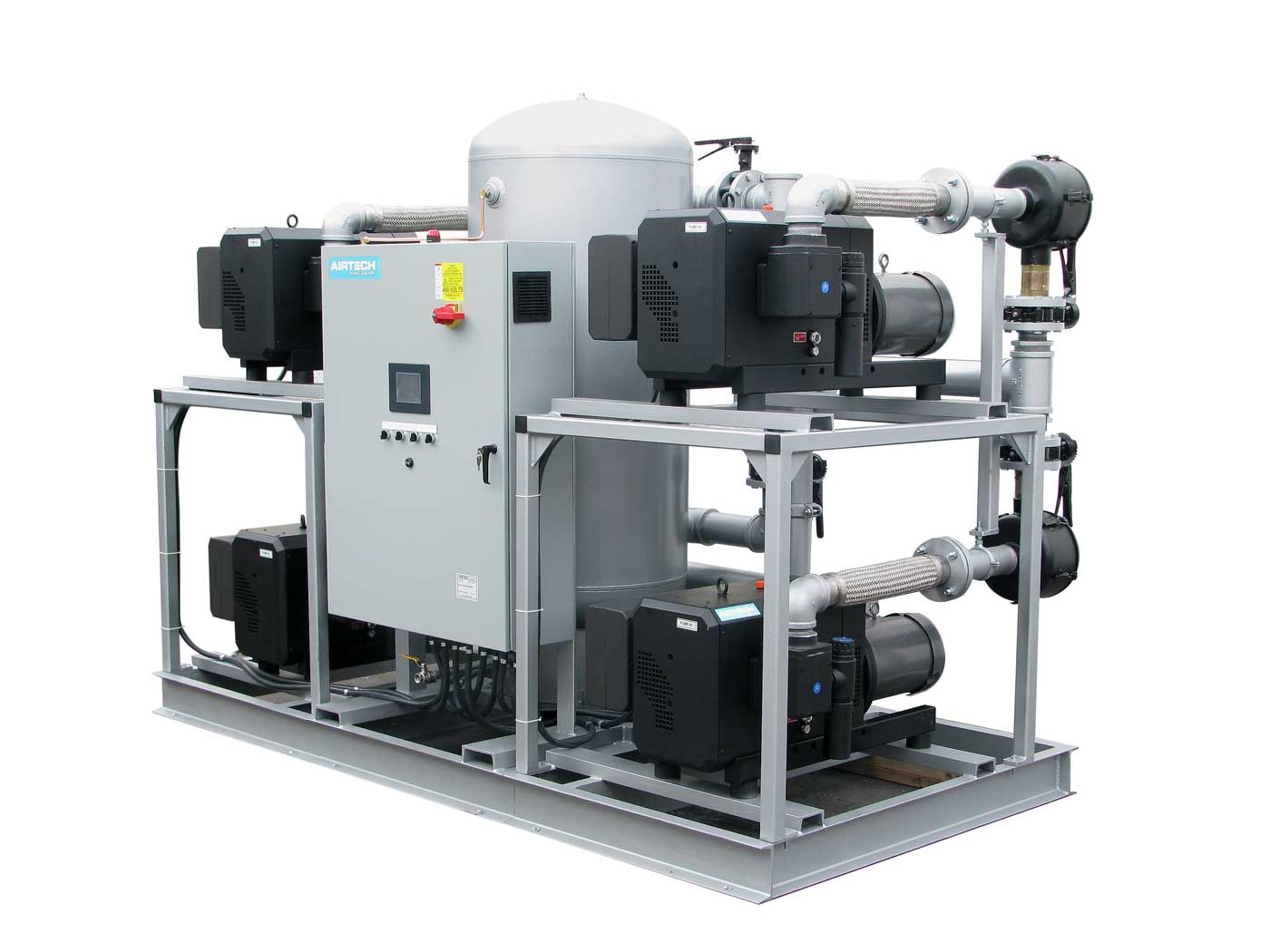 Non-Contact Rotary Claw Vacuum Or Pressure Systems-VCX/PCX
This Quadruplex Medical Vacuum System (NFPA 99C Compliant) was built for a hospital that wanted minimal maintenance and the newest vacuum technology available to date. The non-contact, dry rotary claw design offers a vacuum system for surgical, waste anesthetic gas disposal (WAGD), laboratory and industrial applications. The illustrated systems comes complete with a touch screen control panel, variable speed drives to economically control the speed of the pumps and lower energy consumption, and a fully automated PC controller that can be interfaced with the Building Automation Systems (BAS).
Self-Contained Recirculating Liquid Ring Vacuum System – 3AL
Liquid ring technology has been the most reliable vacuum source for more than 70 years. Airtech designed the 3AL to be environmentally friendly with a unique water recirculation system and maintenance free operation. Air-cooled pumping system are commonly used in the medical, industrial, and food processing industries. The 3AL is a wonderful alternative to oil flooded pumps that require maintenance scheduling, dry vane pumps that cannot handle water vapor or carryover, or non-contact pumps that must be protected from particulates. All 3AL systems are designed in Simplex to Multiplex configurations and can either be tank mounted or stack/base mounted as shown here.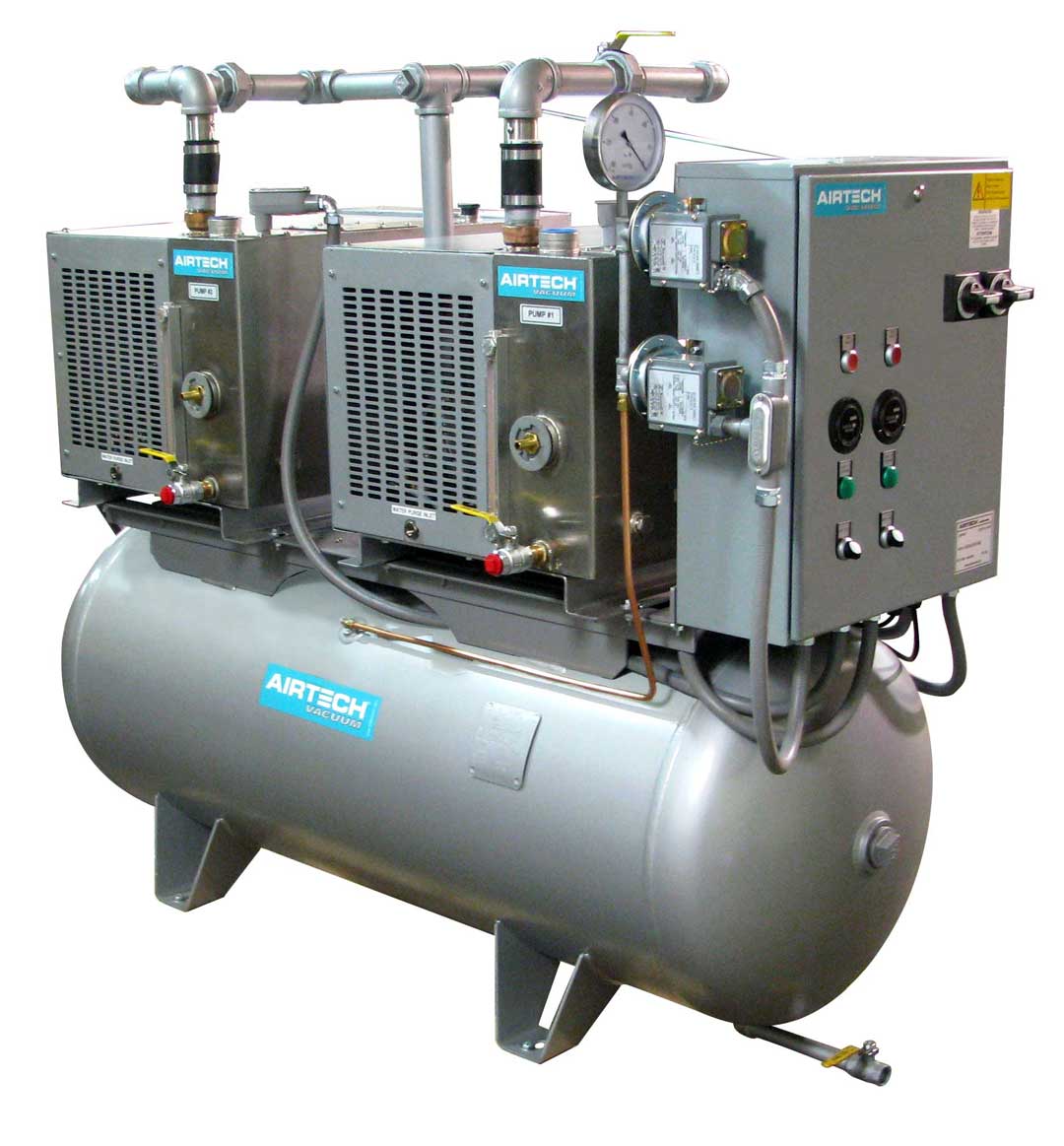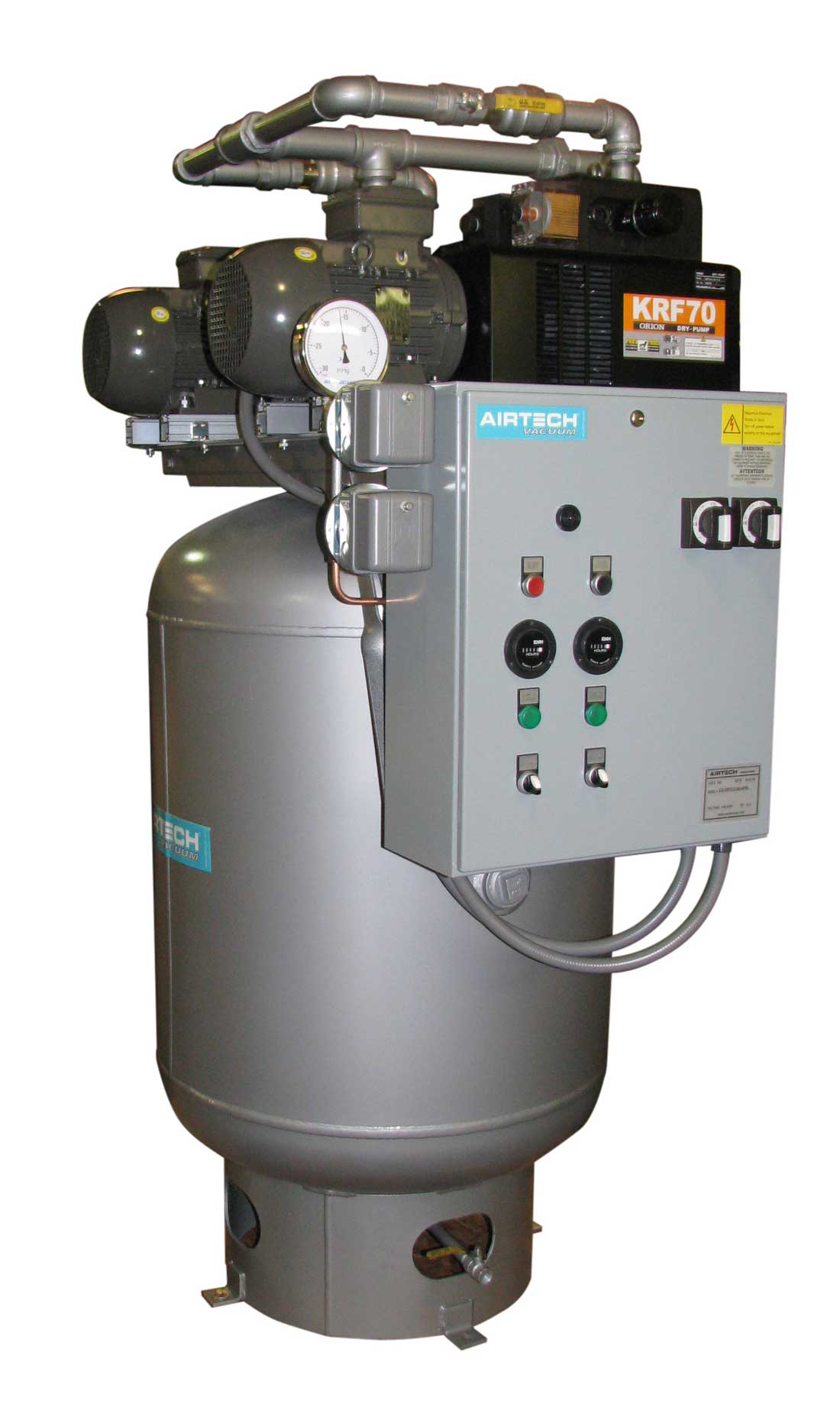 Dry Rotary Vane Vacuum Systems – KRF
No oil to change- very low maintenance
Reliable
Inexpensive
Quiet
Excellent for surgi –centers, small industrial applications
Vertically or horizontally tank mounted option
Stack mounting option
Simplex or multiplex
Tank Mounted Rotary Vane Vacuum System
Single stage oil flooded vacuum systems have been a staple in many of the above mentioned applications and industries for over 50 years. These systems are designed in various configurations to save space – Vertical or Horizontal Tank Mounted or Expandable – Stacked or Base Mounted. Years and years of reliability make these systems a wise choice with only minimal maintenance necessary.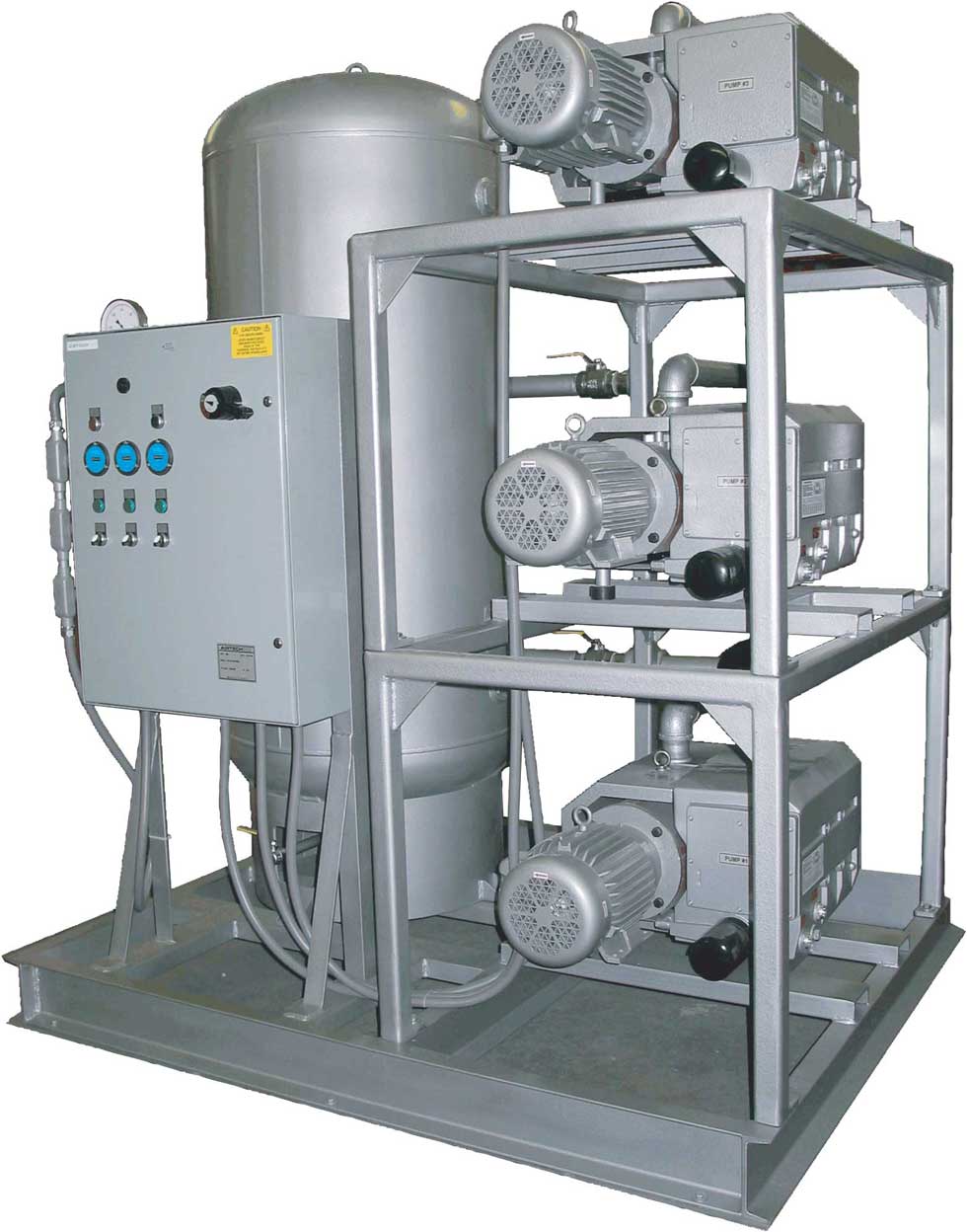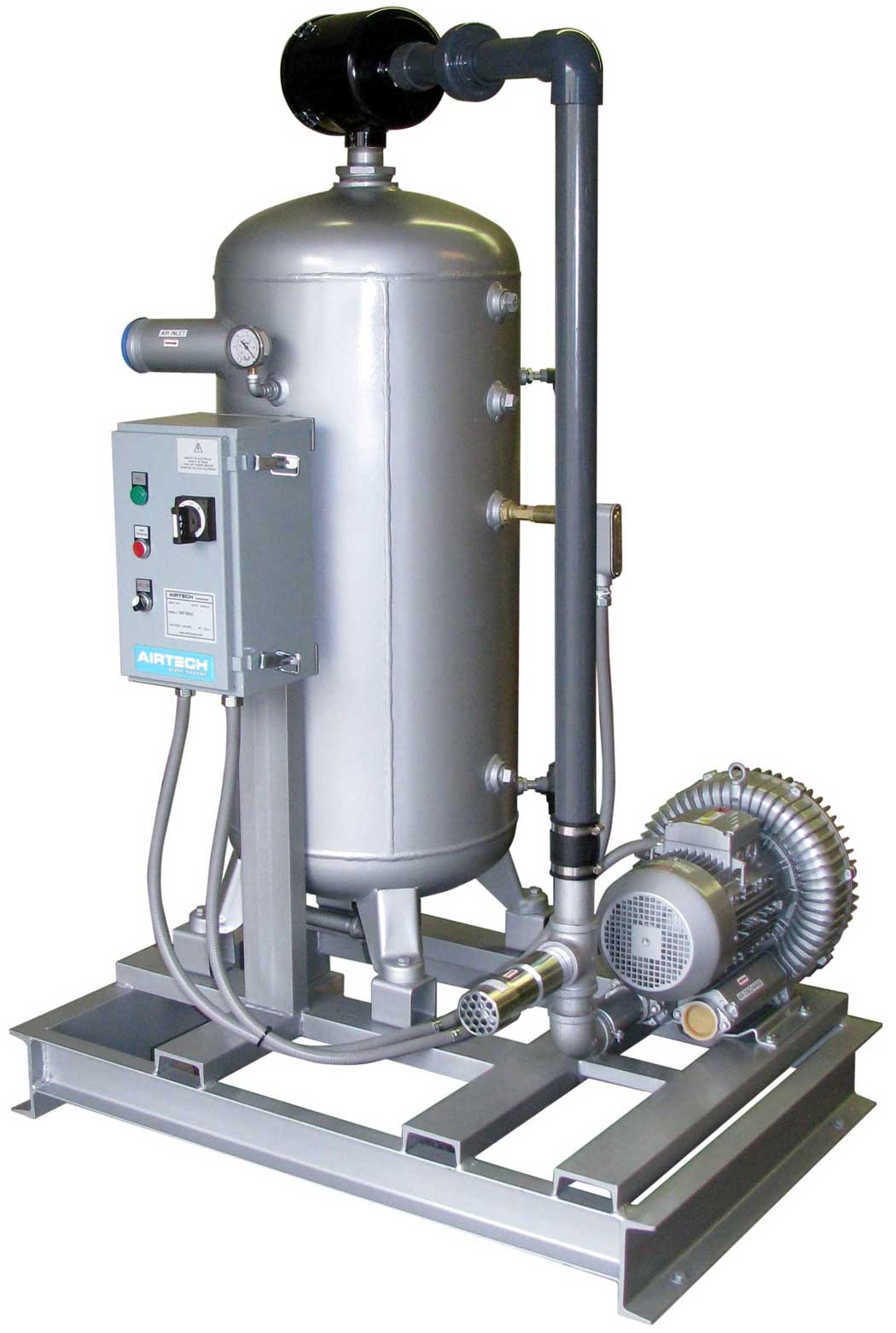 Dental Oral Evacuation Systems – 3BA
This product utilizes well-known, reliable regenerative blower technology. With no contacting parts and no need for oil or water, it's a maintenance free design. It features a built-in wash down system. Quiet and reliable, this system allows the dentist to focus on his patients. Simplex to multiplex configurations are available. A special nickel coating is also available to protect against oxidation.
Custom Triplex Blower System
This blower offers vacuum or pressure configurations. A PC based control center simplifies operation.This system featured mechanical seals. Special coatings available include electro-less nickel and Teflon. The magnetic drives were selected to enhance leak tightness between the motor and pump housing. Specialized instrumentation, an explosion proof motor, and high temperature bearings round out the features.