Airtech Kinetic Blower (AKB) Series are dynamic blowers that transfer kinetic energy to the medium agent by a contactless rotating impeller. The gas is drawn in by a high-performance titanium turbo impeller. The minimized internal losses lead to extremely high efficiencies and silent compression at rotational speeds up to 12,500 RPM. The position of tangential inlet and outlet can be selected individually according to the needs of the application. The reliable IE4/NEMA super premium blower motors are also available with integrated plug and variable frequency drive.
Products Features:
Advanced Design – The AKB features permanently greased hybrid ceramic ball bearings, a non-contacting titanium impeller, and a fan-cooled permanent magnet motor
Environmentally Safe – Oil-free compression allows for optimized efficiency, low energy consumption, and low noise level – all in one small footprint.

User-Friendly – The AKB features no contacting parts and operates oil-free – no maintenance needed.
Speed Controlled by external or integrated variable frequency drive.
Forward Thinking – With a neodymium magnet IE4/NEMA super-premium permanent magnet motor.
Customized for your specific needs and applications.
Curves are valid for continuous operation. Medium: air at 59° F measured at inlet port and 1012 hPa (mbar abs.) atmospheric backpessure, Tolerance ± 10%; ambient temperature: -77° to 104° F
DIMENSIONS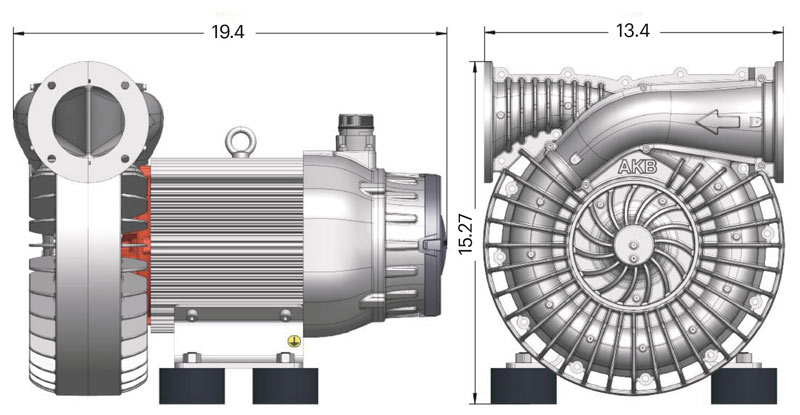 PERFORMANCE DATA
Type

P2 Max

[HP]

fmax

[Hz]

QMax

[CFM]

nmax4)

[RPM]

Δpmax1)

[inch H2O]

U2)

[V]

Imax

[A]

Motor Efficiency

[A]

Noise
Level

dB(A)3)

Weight

[lbs.]

AKB1000-1MB182-1
24.4
440
588
13,200
-225/257
3x x 380…480V, 50/60Hz
37,0
IE4/Super Premium
75
97
AKB1000-1MB322-1
43.7
440
588
13,200
-225/401
74,0
IE4/Super Premium
76
122
EXPERIENCE THE DIFFERENCE
AKB Series Kinetic blowers are smaller, lighter, and quieter compared to other gas moving technologies of similar performance. AKB1000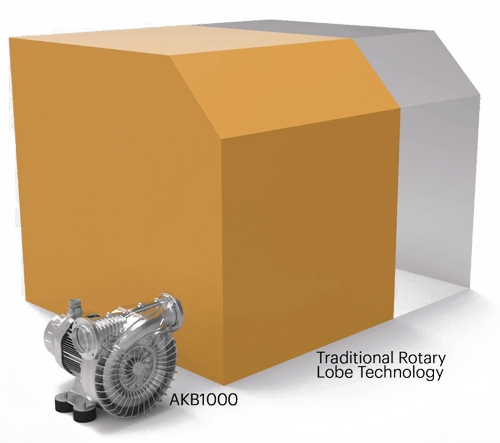 | | | |
| --- | --- | --- |
| | AKB1000 | Rotary Lobe Technology |
| Size | 23"x15"x15" | 52"x46"x38" |
| Weight | 162 lbs | 1065 lbs |
| Noise | 75 dBA | 90 dBA |
| Pulsation | No | Yes |
| Maintenance | None | Yes: Gears, V-belt, gearbox oil must be replaced on maintenance cycle |
HIGHLIGHTED INDUSTRIES
AKB Series Kinetic blowers are replacing many traditional types of positive displacement blowers and pumps in a wide range of different industries.